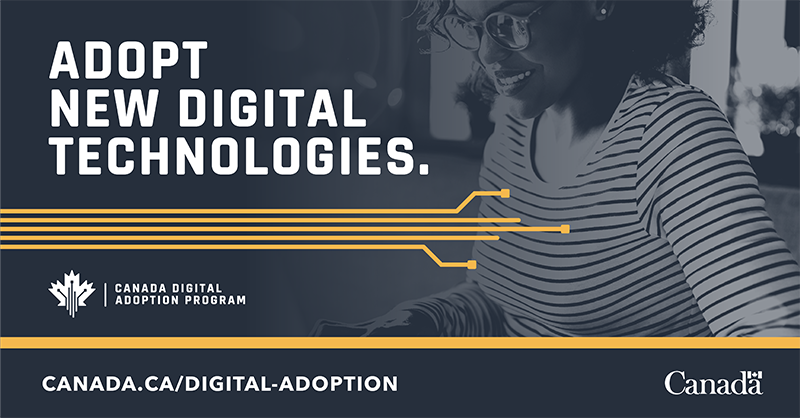 Small and medium-sized businesses (SMEs) with Canadian ownership that desire to adopt new digital technologies can get support through the Boost Your Business Technology grant. Businesses that qualify can use the grant to pay for a digital advisor's services. These advisors will collaborate with businesses to suggest digital routes and strategies that will aid in achieving their goals and boosting their competitiveness in the digital economy.
What is the funding?
This grant covers up to 90 per cent of the eligible cost of retaining the services of a digital advisor—up to a maximum of $15,000 per SME—to develop a digital adoption plan.
Businesses can secure a 0 per cent interest loan from the Business Development Bank of Canada to facilitate the acquisition of new technology. You must apply within 6 months of receiving the grant payment for the digital advisor.
Applicants can leverage the help of talented post-secondary students and recent graduates through subsidized work placements.
Who is eligible?
Before applying, businesses are required to meet the following criteria:
be incorporated federally or provincially, or be a Canadian resident sole proprietor
be a for-profit, privately owned business
have between 1 – 499 full time equivalent employees
have at least $500,000 of annual revenues in one of the previous three tax years
What is the application process?
Applications must be completed by an owner or a director listed in the articles of incorporation.
Applicants provide basic information in the initial application.
Applicants will be asked to assess their business' digital readiness by completing a digital needs assessment.

The digital needs assessment tool will generate a report outlining the applicant's digital maturity and compare it to an industry-specific benchmark. They may share this report with their digital advisor later in the process.

Once the digital needs assessment is completed, applicants will be able to find a digital advisor to develop their digital adoption plan.

Applicants will access CDAP's Digital Advisor Marketplace and select a digital advisor they would like to partner with to develop their digital adoption plan.
Applicants and their digital advisor will then agree on the terms of work, and final cost for creating the digital adoption plan.

When their digital advisor has completed their digital adoption plan, applicants can submit it to process the grant payment.