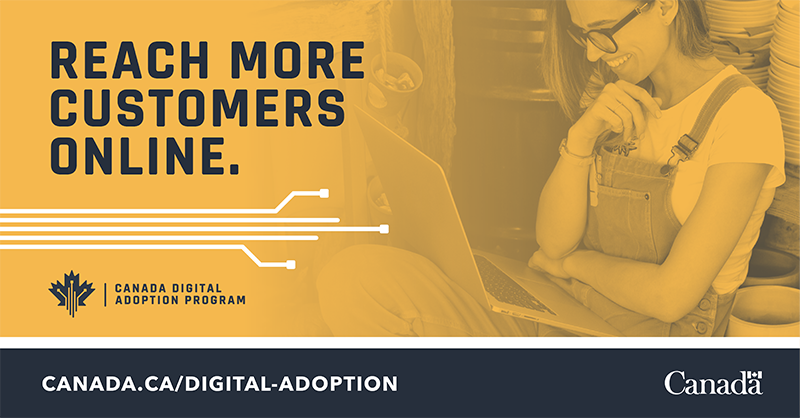 Up to 90,000 small businesses will benefit from the Grow Your Business Online grant by utilizing e-commerce opportunities. Consumer-facing businesses must develop and apply e-commerce capabilities now more than ever to be competitive. Adopting digital technologies enables businesses to better service current consumers and draw in new ones in the digital marketplace.
What is the funding?
Eligible businesses will receive a micro-grant of up to $2,400 to help with the costs related to adopting digital technologies.
Grants will be available through local and regional service providers across Canada.
The service providers will also support a network of e-commerce advisors who will advise and help small businesses adopt e-commerce.
Who is eligible?
Applications can only be submitted by a small business that meets the following criteria:
is a for-profit business (including for-profit social enterprises and co-operatives)
is a registered or incorporated business
is a consumer-facing business
can be accessed by consumers or provides in-person services to consumers
has at least one employee
must commit to maintaining a digital adoption strategy for six months after participation in the program
must consent to participating in follow-up surveys, sharing information with the Government of Canada (Innovation, Science and Economic Development (ISED) and Statistics Canada), and having the name of the business published as a recipient of funding
Small businesses such as corporate chains, franchises or registered charities, and representatives of multi-level marketing companies, and real estate brokerages are ineligible.
What are the eligible costs?
Eligible costs include, but are not limited to, the following:
costs related to the implementation of a digital e-commerce plan (e.g. online reservation/booking tools, online ordering systems, electronic payments)
costs related to website search optimization
costs related to the installation of an e-commerce platform (including subscription fees/costs)
costs of back-office solutions to support an e-commerce strategy
costs of social media advertising
costs related to the creation of customer databases
Ineligible costs include, but are not limited to, the costs of connectivity, and costs related to the shipping of goods purchased through the e-commerce platform.
A full list of eligible and ineligible costs can be found on the Government of Canada website.
What is the application process?
Applicants use the assessment tool to determine if their business is eligible and best suited for the Grow Your Business Online grant.
Businesses will be directed to their local service providers in their home province or region for details on how to apply for the grant.
Your service provider will ensure that your business meets the eligibility requirements.
Reach out to your IDM advisor if you'd like to learn how you and your business can benefit from these grants.